Truck Bed Model
COMING SOON!
Engineered for the way your family wants to camp with an EV pickup truck. Lightweight aerodynamic design for maximum vehicle range. At the campsite CAMP365 model T unfolds in minutes to a spacious comfortable cabin with modern day amenities for a whole family's offgrid getaway. When finished the T easily detaches from your pickup and tucks into the corner of your garage ready for your next weekend trip. The Camp365 T transforms your pickup into a true lifestyle vehicle.
Fits Most Trucks
1/2 Ton, 3/4 Ton, 1 Ton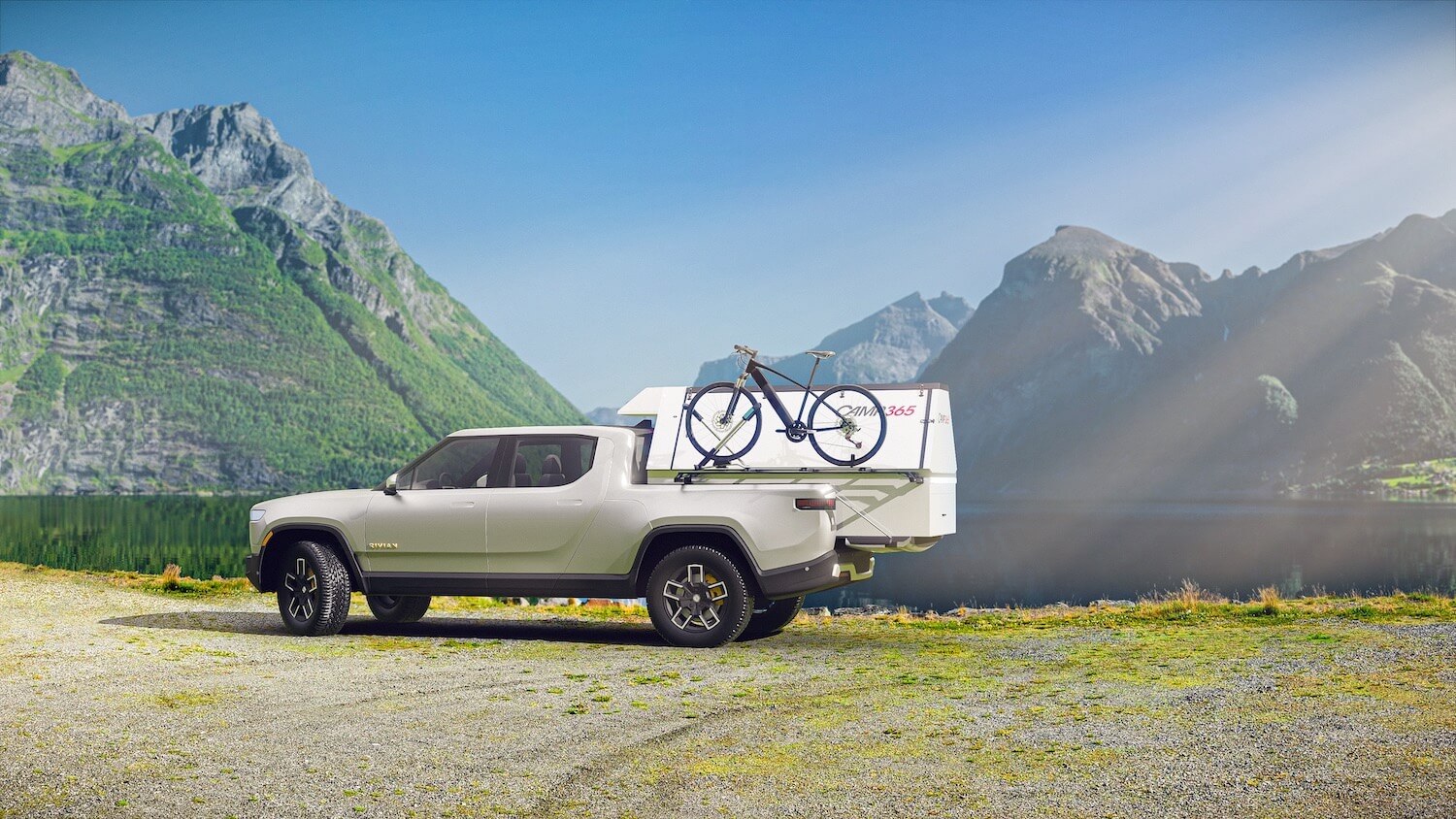 Aerodynamic
Aerodynamic design for minimal airdrag for maximum range. Bring all your family E-bikes, kayaks and paddle boards on your trips with Camp365 toy racks.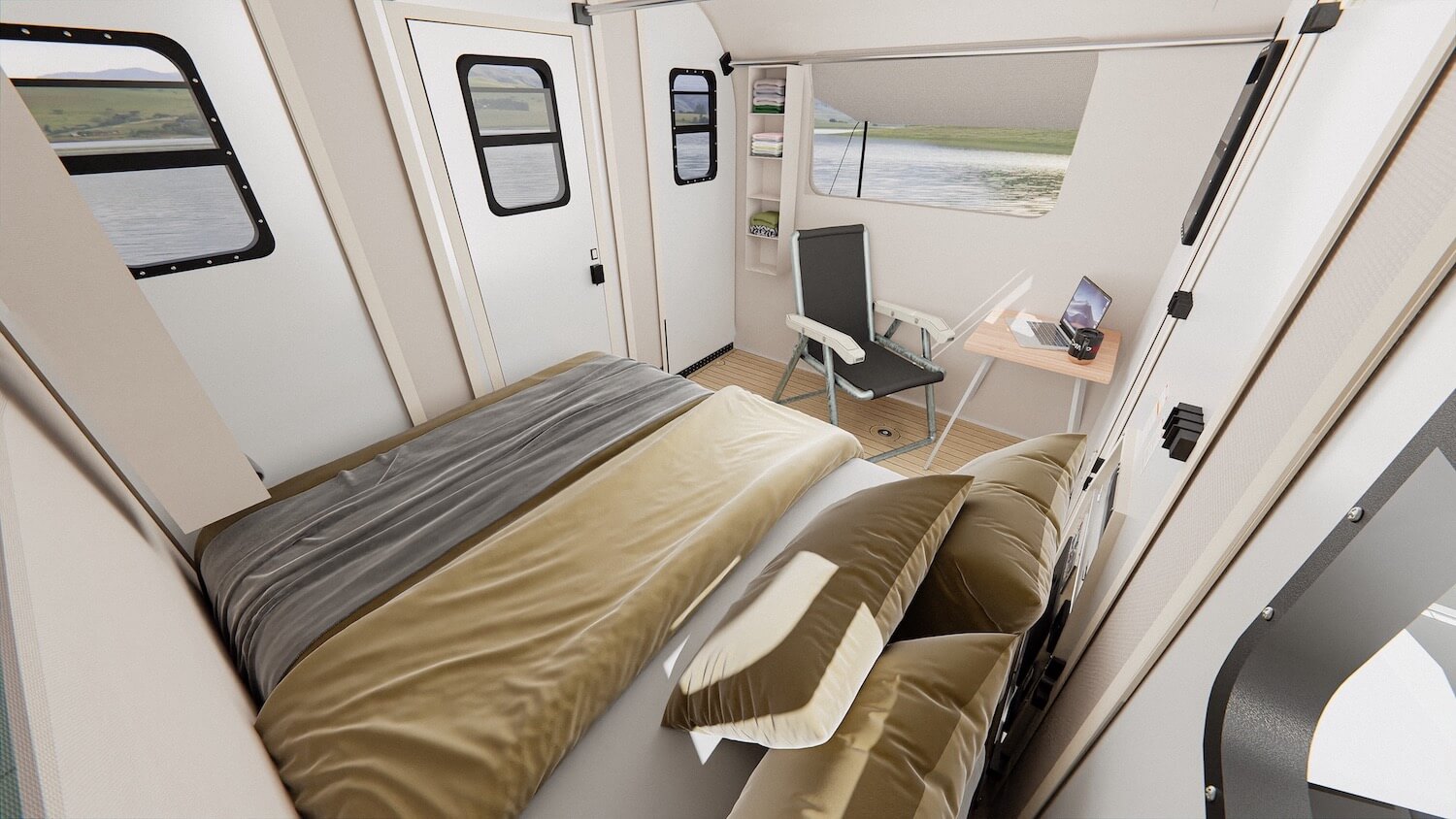 Accommodating
Modular amenities designed to accommodate the trip, the family size, or time of the year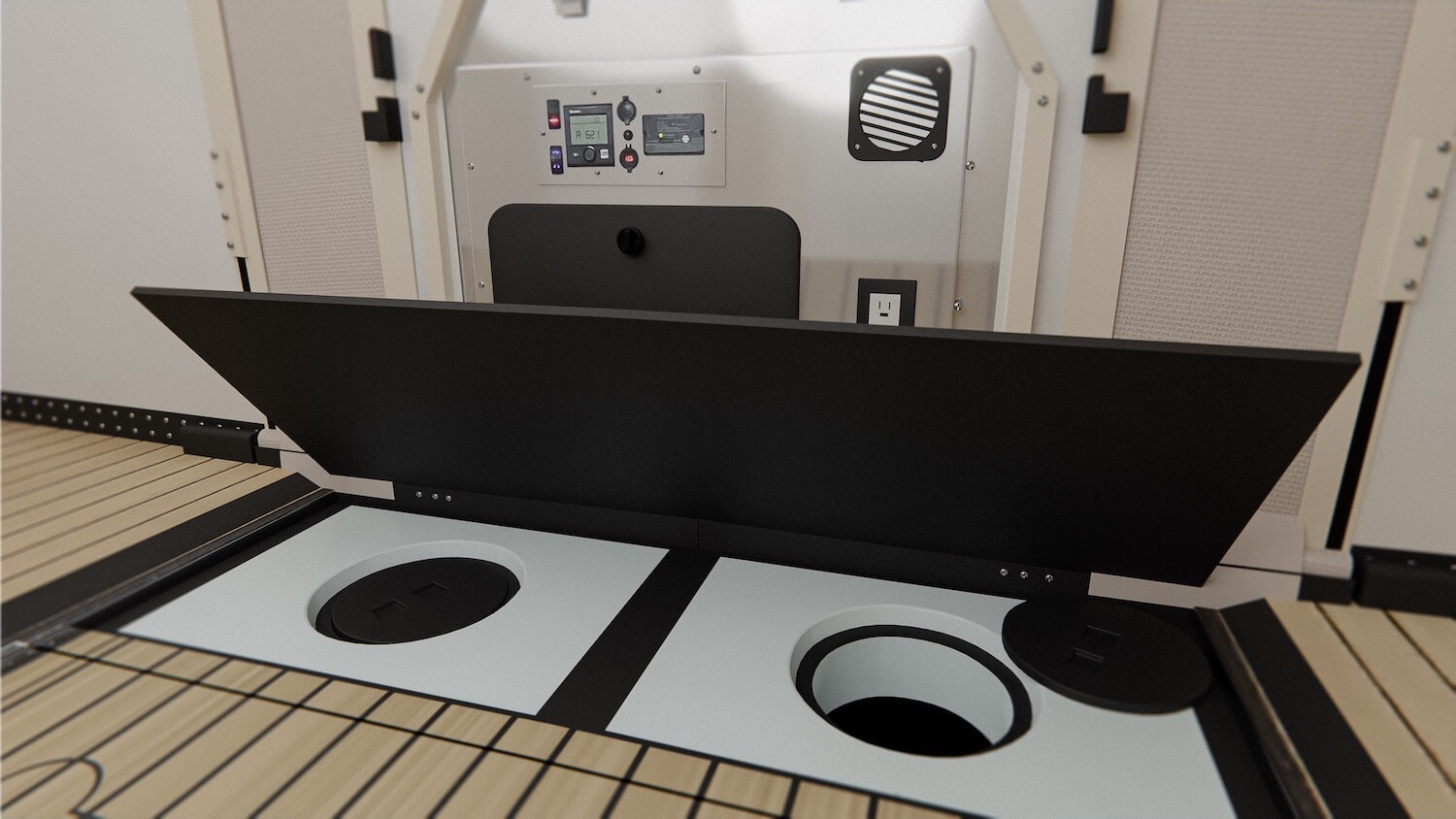 Water Tanks
Easily accessible to replenish with filtered freshwater or use as weekend coolers for your favorite beverages
Spacious 9' x 7' cabin 63 sq. ft. with 6'8" headroom
Aerodynamic design for limited EV range loss
Lightweight design 700 -800 lbs depending on options
Garage storable in corner of garage only 4' wide
Under 48" wt. X 98" over cab 87" lg. bed x 79" ht. In travel mode
Drive through and parking garage friendly
Fits in ½ ton, ¾ ton & 1 ton pickup beds
Comfortably sleeps up to 4 adults,5 with kids or 8 with fury kids. Standing room for 12 tall people
Folding queen , twin or bunk comfort system
Outdoor hammocks for nap time in the shade
Hot water shower internal/external with sink & faucet
24 gallons fresh water or 12 gallon fresh & 12 grey
Portable water purification UV & carbon filtration system
Portable toilet
12v hot water heater
Induction cooktop for internal & external cooking
Folding table to internal & external food prep
Hot water sink & faucet
Large lockable in bed storage drawer for gear
Lockable nose cone storage for cooktop & sink
75" lg.dry storage between both folding walls
Storage racks for roof top carriers
Toy racks for 2 E bikes, 4 bikes , 2 kayaks or 2 paddle boards
Camp365 patented easily detachable on and off the bed mobility
Store in corner of garage or storage shed only 4' wide
Dimmable LED lights, 4 USB charging ports , 2 DC & 110 outlets
Solar ready for off grid living with 100% electrification
Lithium Ion batteries
Starlink satellite high speed internet
WIFI booster
Easy Setup & takedown in minutes with patented lift assist technology.
All season patented dual-layer air gap insulation for electric heater & Air Conditioner.
No wood made with advanced materials that won't mold mildew or rot.
Large screened windows for cross ventilation.
2 side awnings for cooking & hanging in the shade.
No canvas
Toy racks for E bikes , kayaks and paddle boards
Reserve Yours Now
Your ultimate truck bed camper awaits.
Fully Refundable $100 reservation for your CAMP365  T Model. Production to begin by summer 2024.
We will contact you to confirm your configuration, offer financing, and delivery/pick up information as we get close to production. Specifications are subject to change. Truck not included.