INTRODUCING WORLD'S FIRST FOLD-OUT CABIN.
"The Cabin that goes everywhere"
WATCH THE VIDEO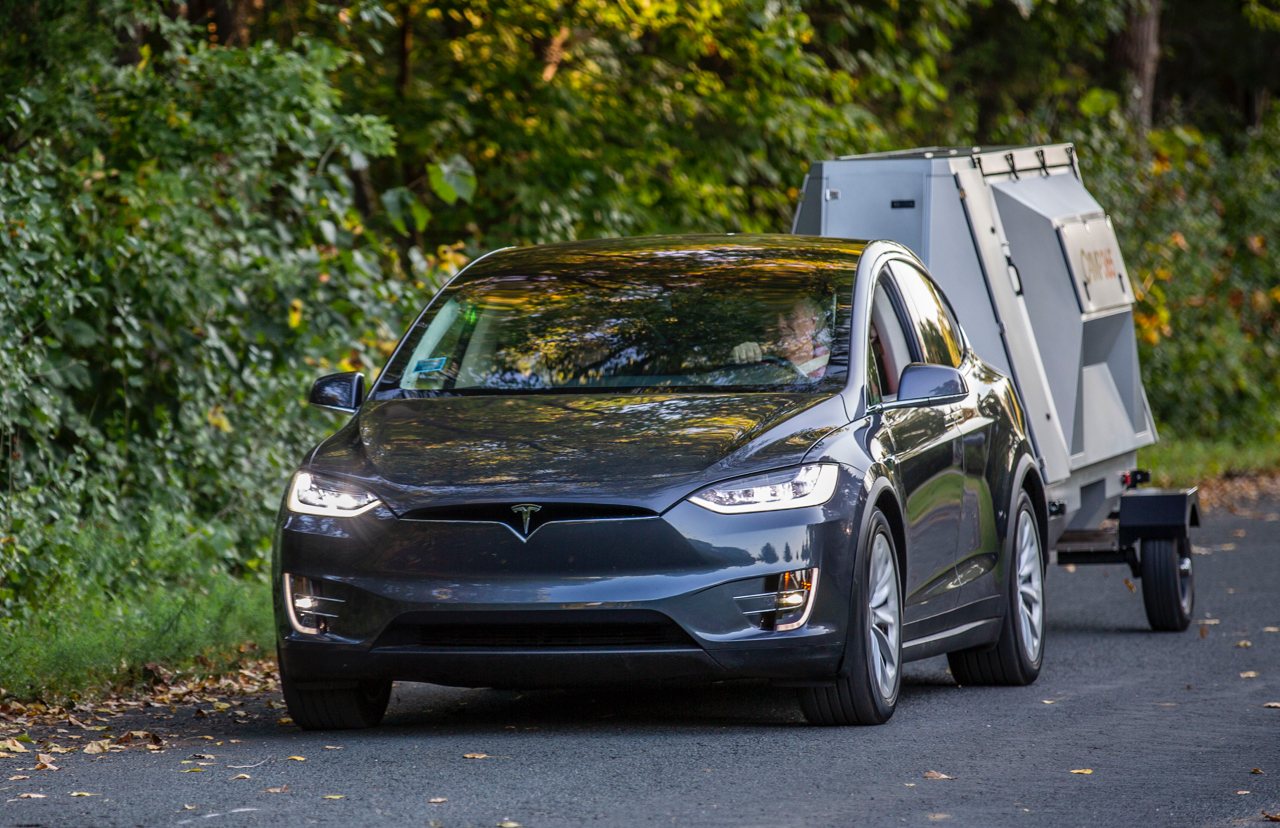 SEE THE AMERICA OTHER AMERICANS MISS.
Your Camp365 breezes down roads and sneaks down trails.

Down the road, its patented Adjustable Wheel Base creates a six-foot-wide wheel base. It's so aerodynamic and narrow—just four feet wide—
and light—just 1480 pounds—that you save on gas (and electricity, if you're towing with an electric vehicle) on every trip.

Get to your spot, collapse the axle in just 90 seconds, and your axle shrinks to just under four feet wide. NOW, you can take 
it to places no other camper can go.
---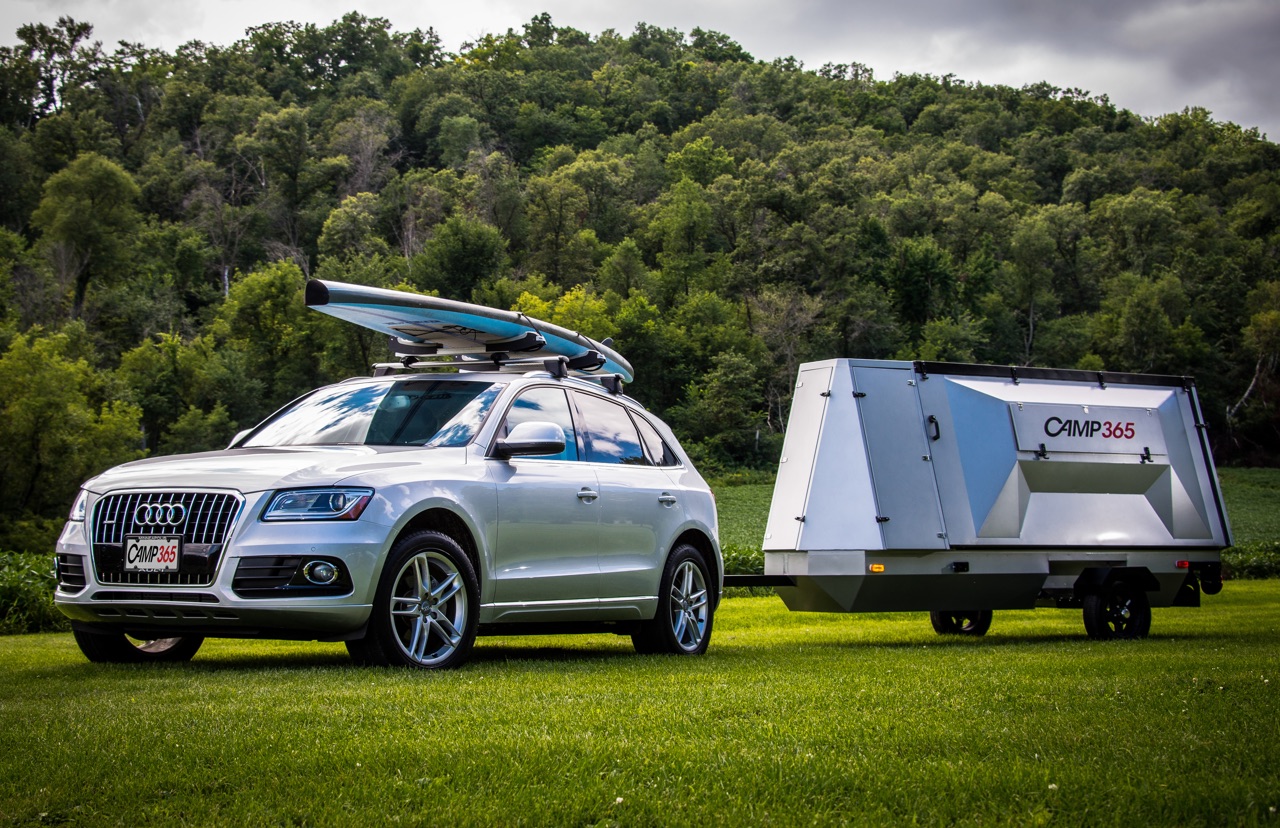 A CABIN THAT FITS IN A GARAGE.
Folded down, this amazing camper stands just 6' 7" and only 
four feet wide. So you can tuck it into your garage or stow it in 
a storage shed.

And it's "Grandma certified™," as we proudly say. With its 
mechanical lift assist, you (or Grandma) can set it up and break 
it down in less than ten minutes—with just a push and a pull.

And speaking of storage, the camper offers 83 cubic feet of dry storage and optional side carriers for kayaks, bikes, paddle 
boards—all your favorite weekend toys.
---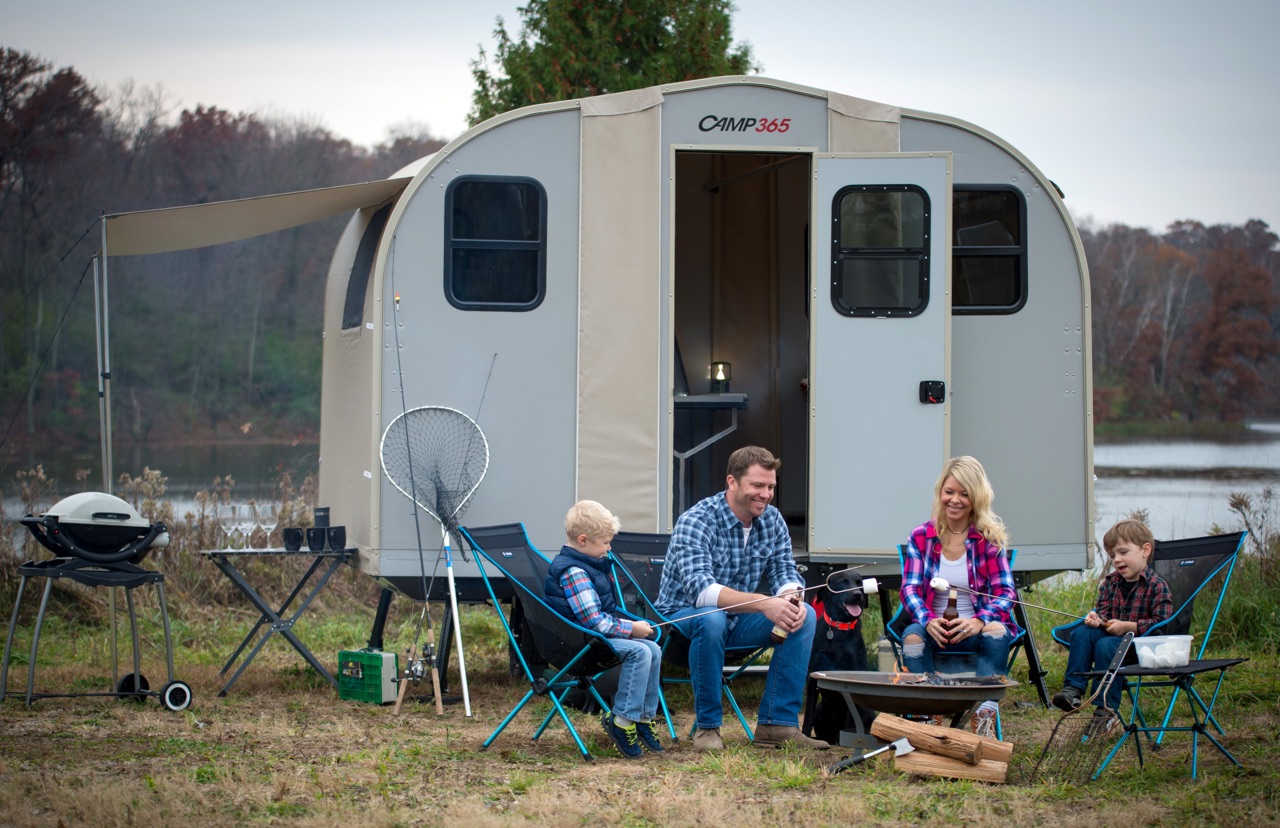 SLEEPS SIX. AMAZES MILLIONS.
One minute, you're pulling your camper down the trail. Nine minutes later you are standing in a 700-cubic-foot weekend cabin that's wide and tall enough for an NFL offensive line and its coach—sprawling 12' wide, a soaring 7' 6" tall.

And it's cool all summer and warm all winter, thanks to seven-window cross-ventilation, proprietary R7 insulation, and electric air conditioner and electric or propane heater, so you and your gang can go anywhere you want, every day of the year.
---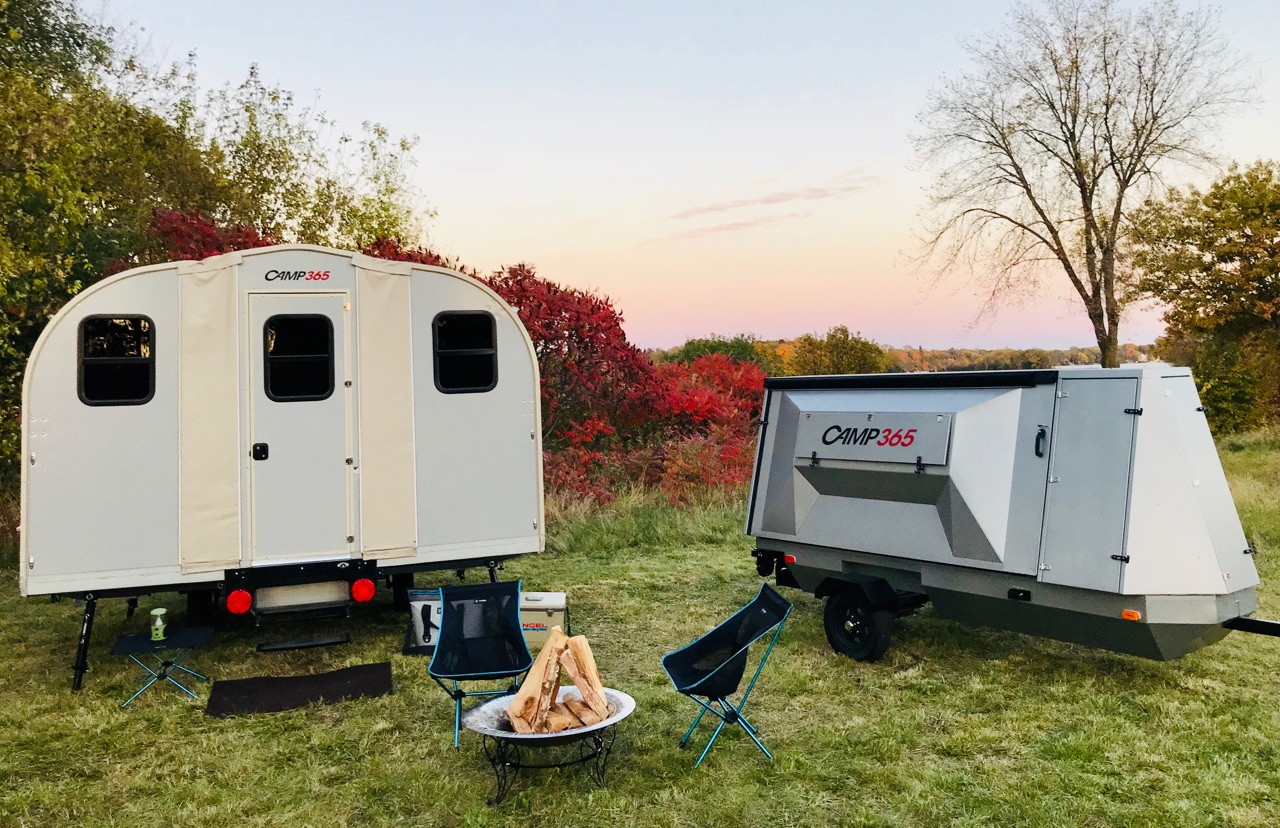 Built to Last. And Last and Last and Last.
Camp365's engineers had a clear vision: to create the perfect indoors for the great outdoors. And 9 different prototypes and over 110 months of testing later—over 10 brutal Minnesota winters—their vision was realized.

There's no wood or canvas; anything that can rip, rot, mold, or fade from exposure. And Camp365's steel reinforcements maximize its strength and durability while its aluminum alloy shell minimizes weight, making it fuel-efficient and towable with almost anything you can steer—right down to a UTV.

---
---
KEY FEATURES AND OPTIONS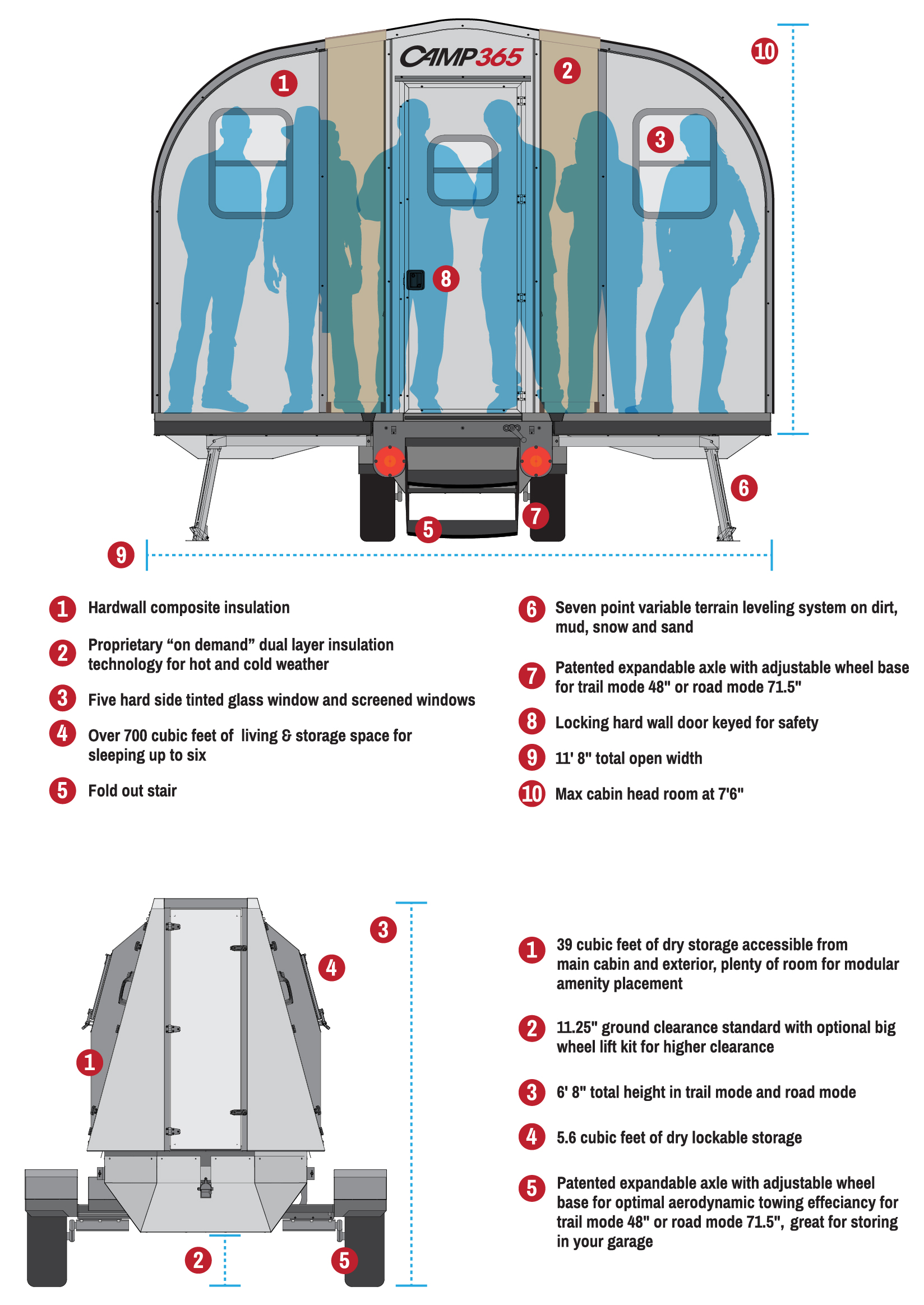 ---
Details
DIMENSIONS
Cabin interior max length: 8' 5"
Cabin interior max width: 11' 8"
Cabin Interior max height: 7' 6"
Cabin Interior living space: 700 cubic ft.
Exterior max width: Trail 48", Road 71.5"
Exterior max height: 10'
Exterior road and trail height 6' 8"
Ground clearance: 11.25"
Road mode length: 15' 4"
Folding Beds: full bed 54" x 80" bunks 30" x 80"
Unloaded trailer weight: 1480 pounds
Gross vehicle weight rating: 2000 pounds
STORAGE
Exterior dry storage side bins: 5.6 cubic feet
Nose cone dry storage: 39 cubic feet
Interior dry storage floor bins: 10.8 cubic feet
Exterior road mode dry storage: 28 cubic feet
Dual 12 Volt battery storage
OPTIONAL PLUMBING
Portable propane water heater/shower
Shower system for outside use
Modular fresh water system: 5-20 gallons
Grey water tank 15 gallons
City water connection
Interior and exterior proprietary toilet system
ELECTRIC
Tow vehicle connection recharges battery while hauling
City or campground electric hook up
Solar ready!
Main cabin interior LED lighting
Interior and exterior LED storage lighting
12VDC - 2 outlets; 110VAC – 2 outlets; and USB - 2 connections
Energy efficient refrigerator and freezer (optional)
Bluetooth speaker system (optional)
DIRT-ROAD CAPABILITIES
Optional 15" Wheel Kit for greater clearance
Patented Expanding Axle with variable wheel base: trail mode 48" or road mode 72", trail legal for all county/state trails that allow vehicles under 50"
Independent torsion axle suspension
12" wheels in black or silver or optional 15" wheels for greater ground clearance
Powder coated aluminum chassis
11.25" standard ground clearance
SAFETY
Electric brake (optional)
Fire extinguisher
Smoke detector
CO2 Detector
Interior hardwall keyed door lock
Exterior side door locks
INSULATION VENTILATION SHADE
Hard wall composite insulation on end side walls and doors (Approximate R value of 7)
Puncture resistant, translucent, waterproof marine grade roof
Patented dual layer "on demand" insulation system for hot or cold weather
Optional zip-in liners for added insulation
Thermostat-controlled heating or cooling system (optional)
12,500 or 14,200 modular BTU propane heater or electric (optional)
Five hard side tinted glass and screened windows
Dual 38" x 26" zip-in mesh windows with sun shade
Two zip-on extended rain and shade awning (optional)
SETUP, CLEANUP, AND TAKEDOWN
Seven Point Leveling System on dirt, mud, snow and sand
Grandma certified™: deploys in minutes in all seasons
Connects to a standard 2" ball hitch
Marine grade coated flooring for easy cleaning
Marine grade snap-in carpet for added comfort (optional)
Integrated tire changing system
Proprietary exterior side wall lift system
Proprietary modular wall lift system
Proprietary folding dual bed system (optional)
Rear hatch transforms into interior table