Patented—And Ingenious—Adjustable Wheel Base
In just seconds and with a standard crank, you can expand or contract your wheelbase. Crank down to just four feet wide for storage and narrow trails, or to minimize your drag coefficient for maximum fuel efficiency. Or, for maximum stability on or off road, crank the wheelbase out to a full 72 inches wide.
Zamp Solar Kit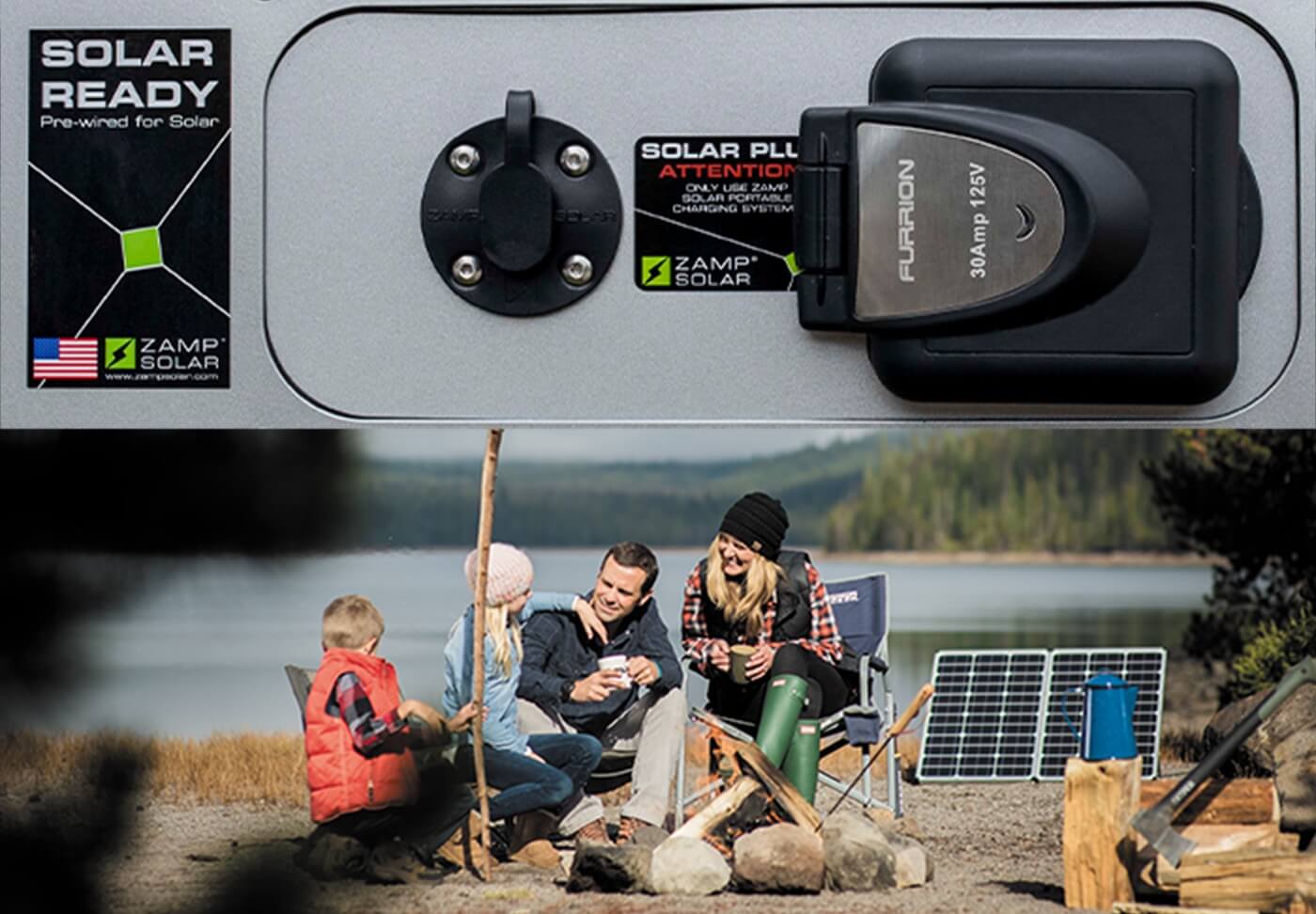 Your Camp365 cabin comes standard with a plug-in for solar that lets you recharge your battery while you play. The 90-Watt, fold-out solar panel comes complete with a case and easily stores in the front storage compartment. Just plug-in and live off the grid!
Double Your Living Space!
Start with our new blow up sun visor awning or add the zip in screen porch/three season room with rear skirting (shown below). Inquire about our four – season heavily insulated room.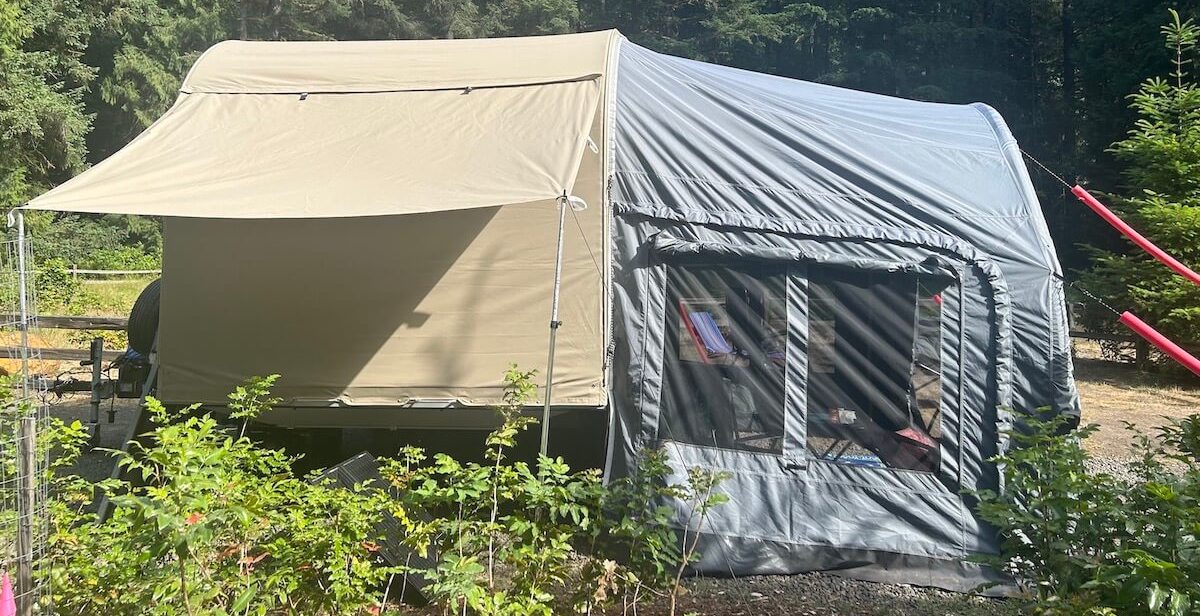 All new blow up extra room that doubles your space 10 ht x 12 wt x 7.6 lg. Easy one person set up no ladders needed. Slides into our rail when the wall is down. Store in your Camp365 when not in use. Now you can sleep 10.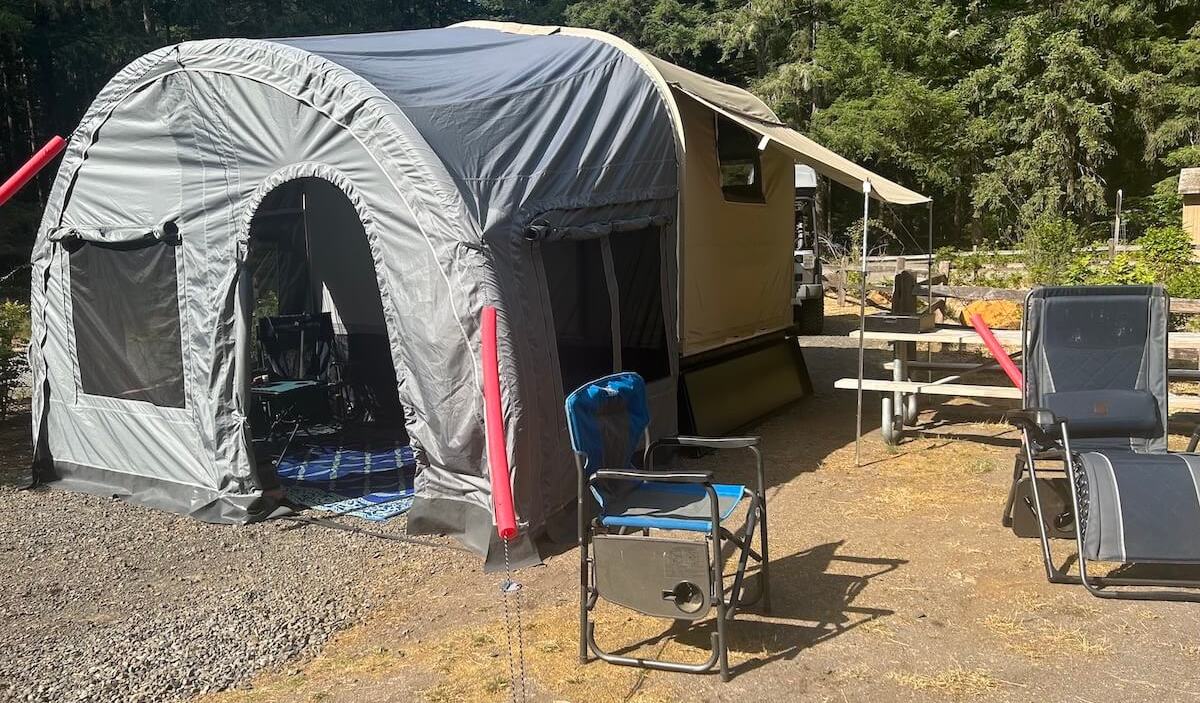 Relax and enjoy a cup of coffee.
The Cabin That Skis
Skis that easily mount on your wheels can take you through snow and over ice. This is the ultimate mobile ice fishing camper with heated and insulated four season room that keeps you warm while you fish.
Side Awnings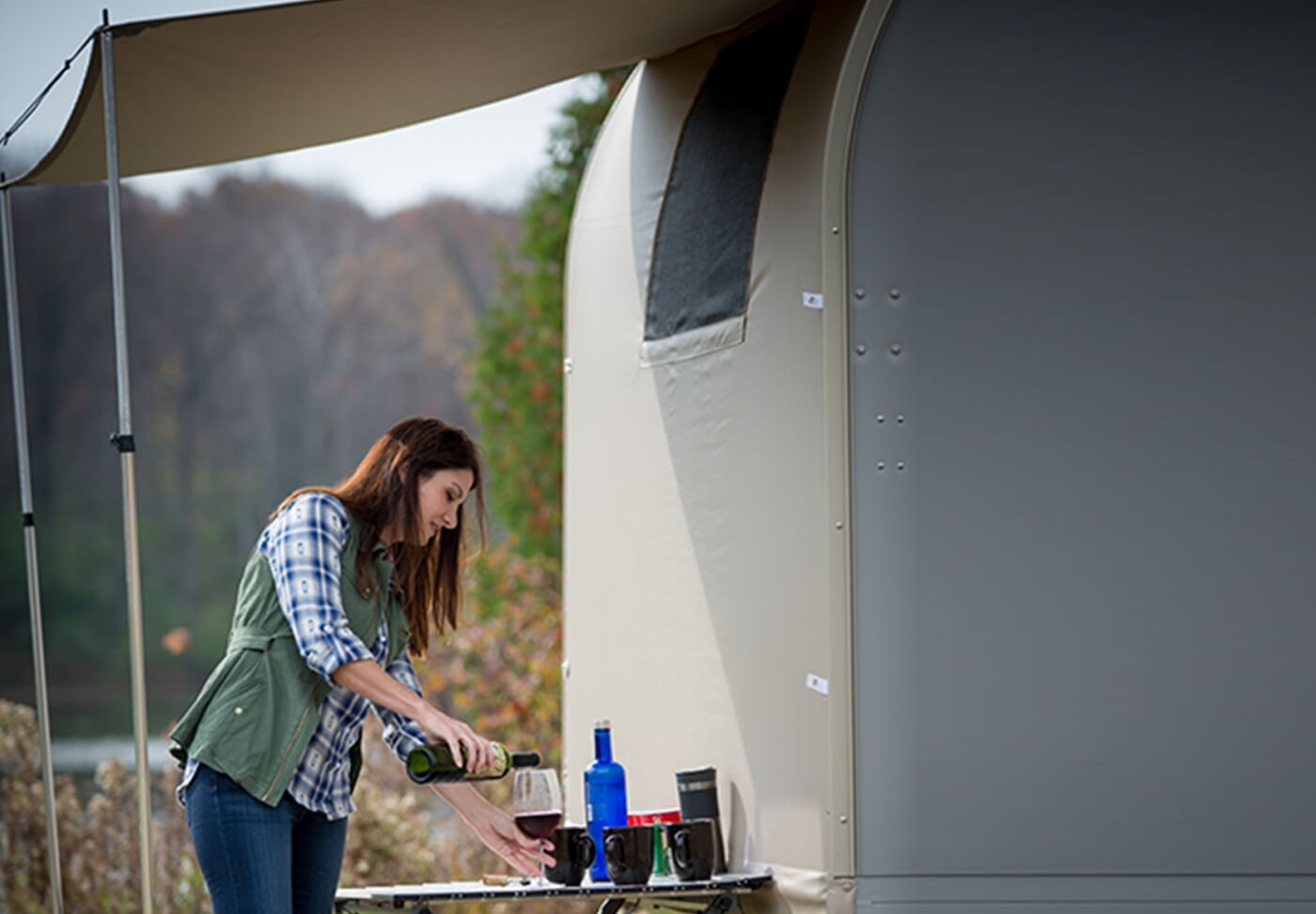 Twin side awnings provide shade for food and drink preparation. Need a weekend away from the kids? Or perhaps get together with old roommates for an outdoor concert? Camp365 will be your mobile cabin for all your weekend adventures.
Cost Saving (and Convenient Saving) Storage
Why pay over $1,200 a year, or more, for away-from-home storage? And why have to go pick up your vehicle when you can keep it at home? Folded-in, your Camp365 camper fits easily in any standard garage or storage shed.
Off Road Kit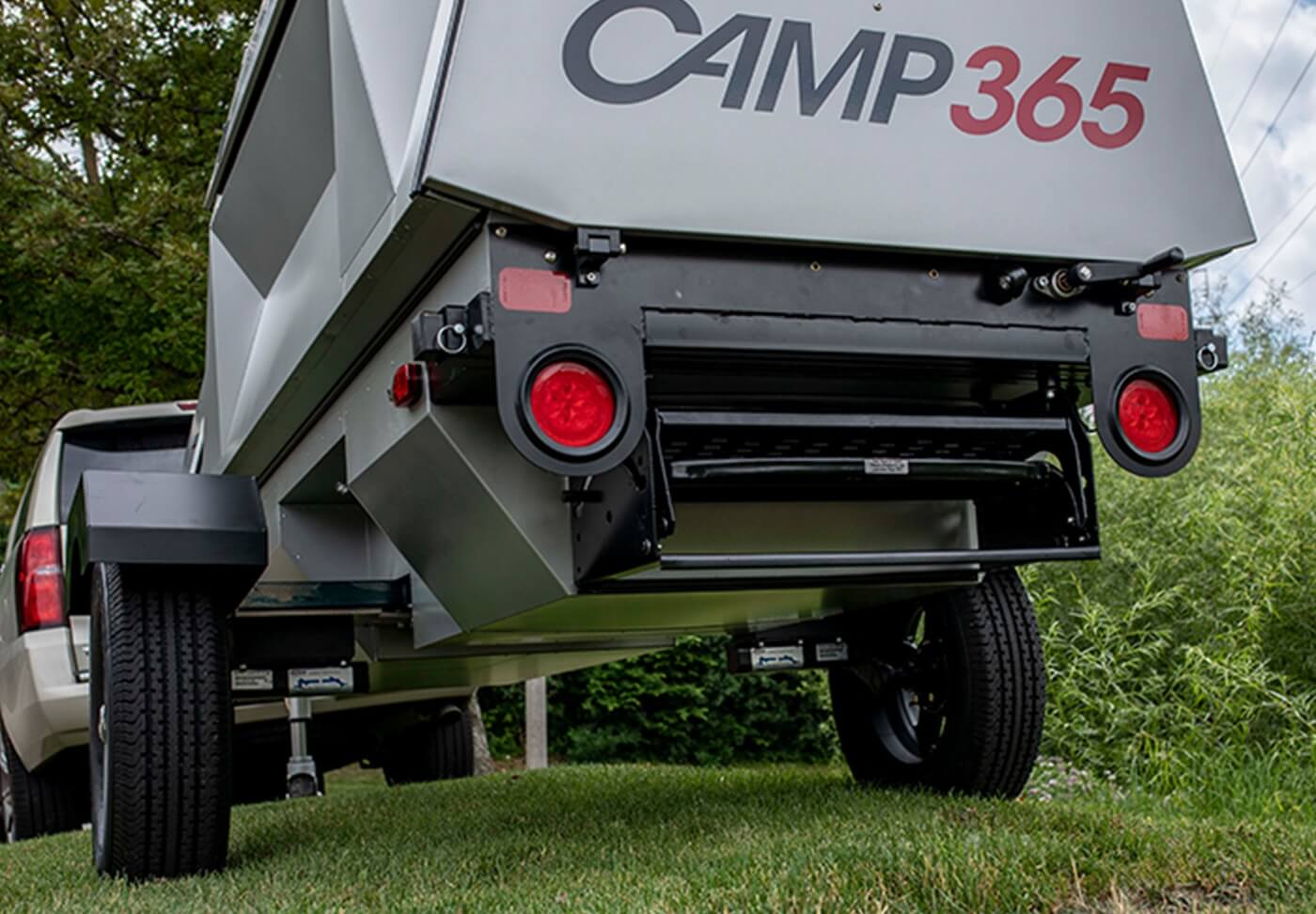 For your more rugged off-road adventures, our optional 14" off-road wheels, rims, and extra-wide fenders give you another 5″ clearance over the roughest terrain.
Camp Where You Hunt of Fish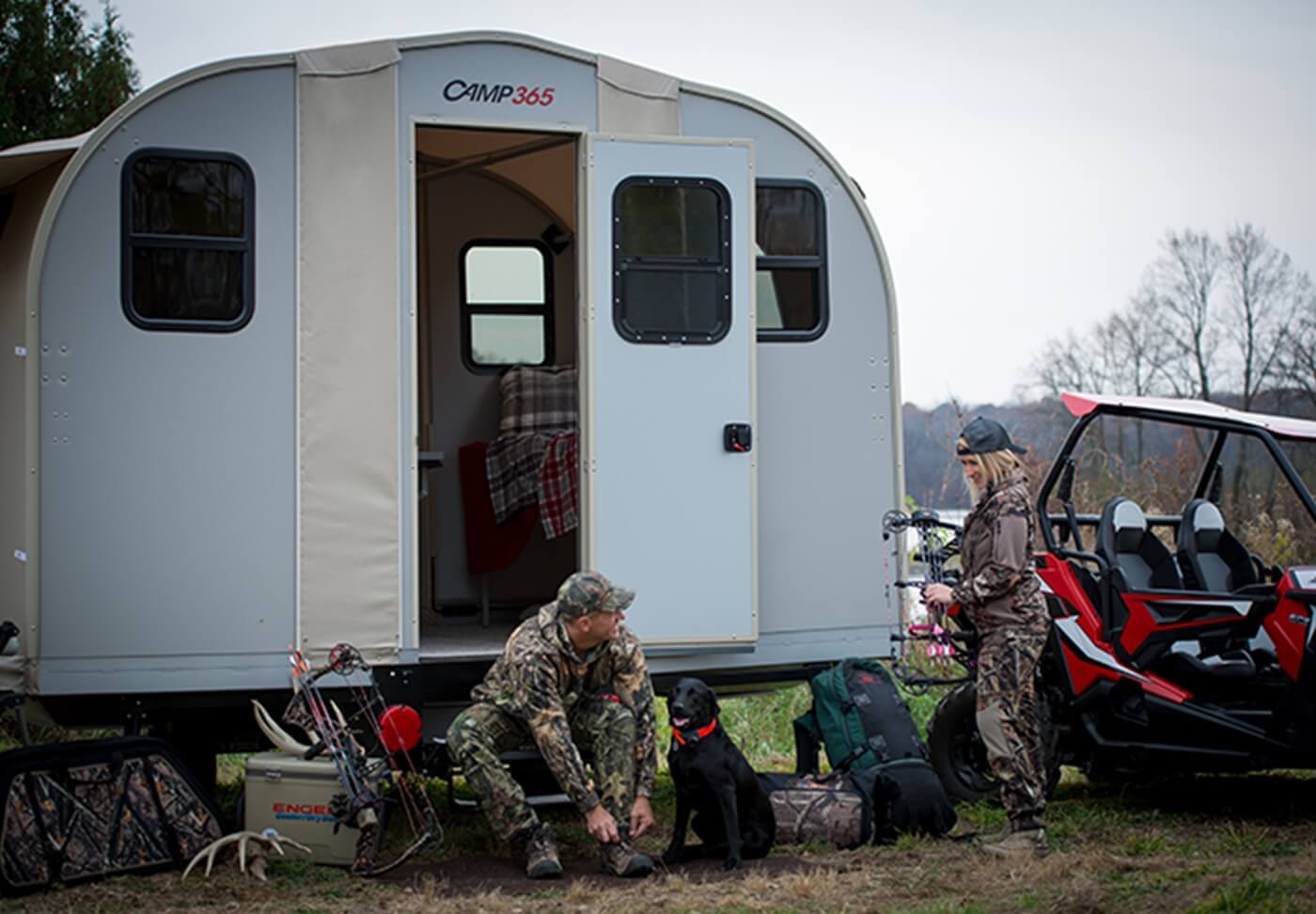 Because of Camp365's light weight, patented adjustable wheel base and easy leveling system, set up is easy even on sand, mud, and rock. You can take it into your hardest-to-reach favorite hunting & fishing spots. And start your adventure right outside your front door.
Pull With ATV or UTV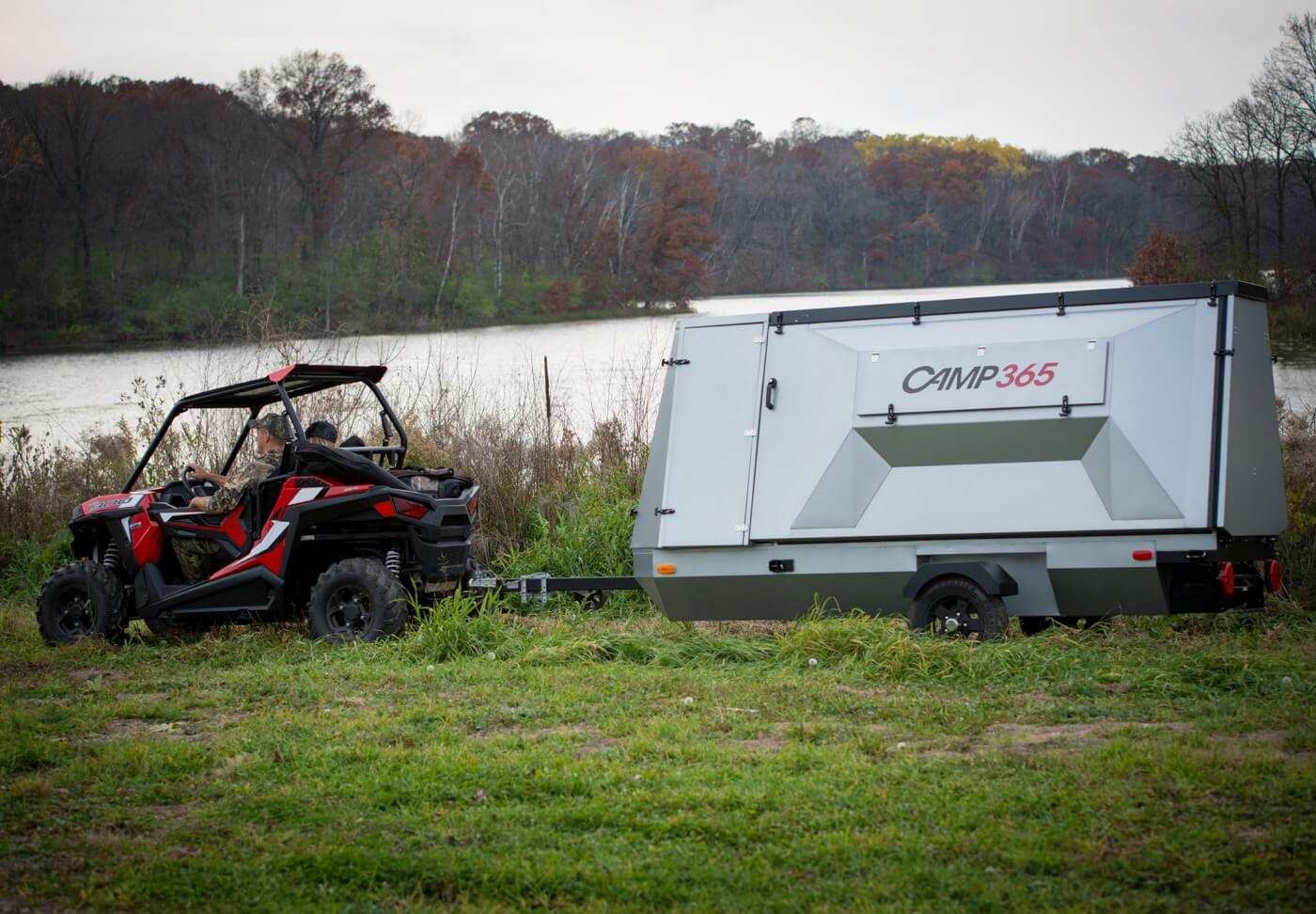 So light and aerodynamic you can even haul it with your ATV or UTV.
Easier-To-Load Side "Toy" Racks
You can bring along your favorite toys—paddle boards, bikes, canoes, kayaks and storage carrier—and easily fit them on the side of your Camp365. (No more military presses to rack them on top of a vehicle!).
All-Size, Adjustable Propane Mounts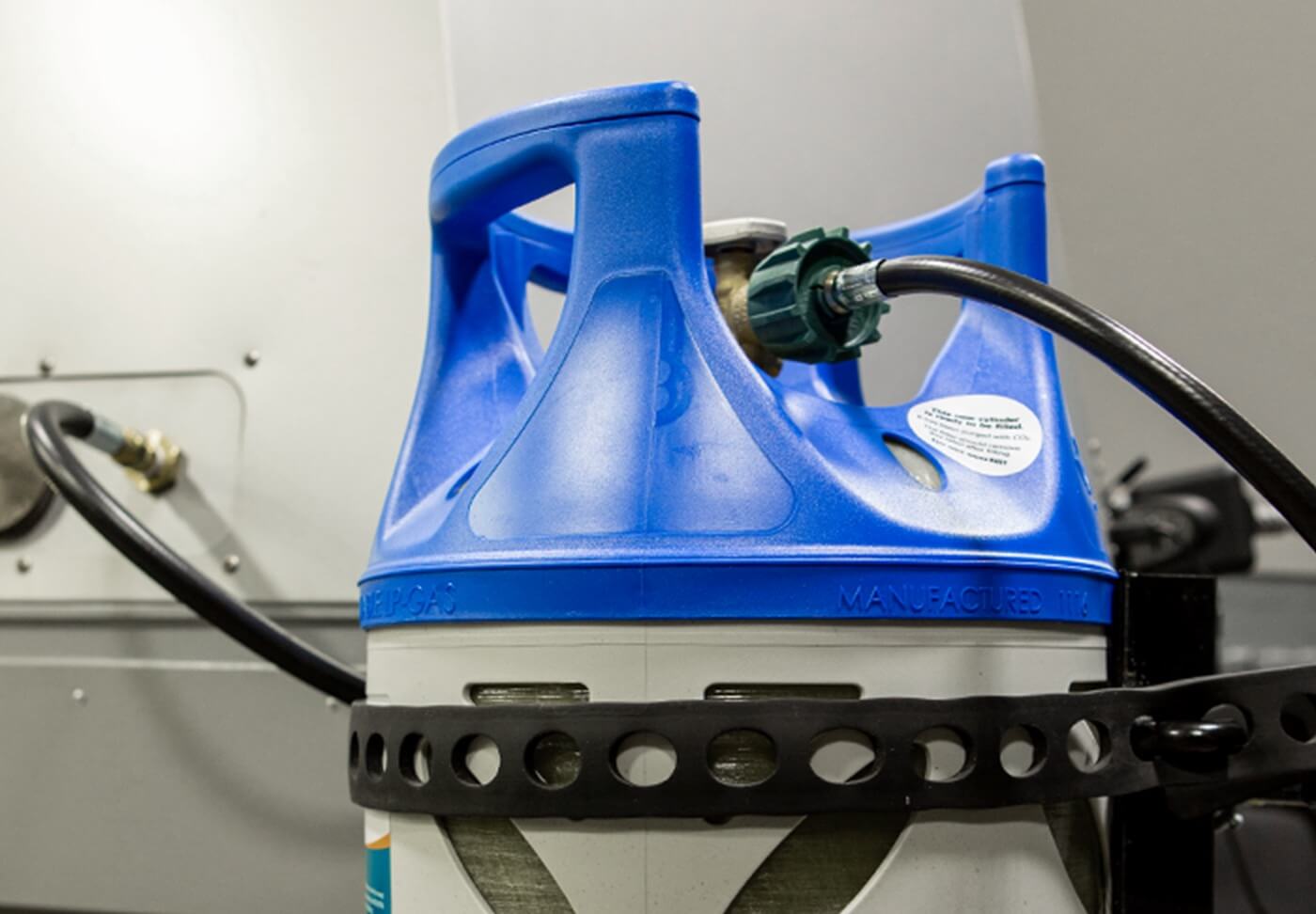 You can easily move your propane tanks around your cabin, with these mounts that adjust to hold virtually every size propane tank.
Want to see details about the Interior?
Camp365 has amazing features built for the inside of the trailer.